In The Landscape
Astilbes are real assets in a woodland area or partially shady flower bed. They offer soft texture to set off other plants and lovely blooms to add a splash of color for a few weeks as well. Try them mixed in with Japanese iris, hostas or columbines, or with ferns for a study in foliage textures. They are also striking on their own as specimens, in groups of 5 or more in a corner of the yard or in drifts around evergreens. Because they like moist soil, they are ideal for borders of ponds and streams. Their fibrous roots hold the soil well there. Plant astilbes in containers large enough to keep soil cool and moist, about 1 to 2 feet in diameter and at least 1 foot deep. 'Sprite' a dwarf version of astilbe is particularly suited to outdoor containers. They also do well in pots in the greenhouse.

Winter Interest
In regions where there are real winters, leave the flower heads so they can dry on their stems when the astilbes are finished blooming. When winter comes these airy dried flowers provide some visual relief in a bleak winter landscape.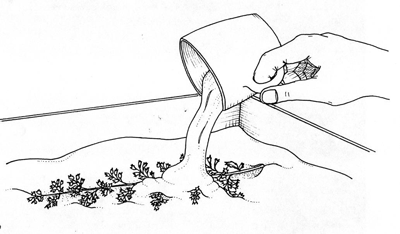 Drying
Astilbe fronds are particularly useful and attractive in dried arrangements. Their feathery flower plumes shrink when air dried, so use borax preservation techniques. Use borax or a borax and cornmeal combination (roughly 1:4). Cover the bottom of a box long enough to accommodate the length of the astilbe frond with 2 inches of the borax medium. Then lay the astilbe frond lengthwise on the bed of medium and pour more medium in until the frond is completely buried by an inch or two.
Leave the box uncovered, since the moisture is evaporating naturally as the plant is supported by the borax medium. Check in 3 weeks to see if the frond is sufficiently dried. If not, return it to the box, recover it and wait a few more weeks. The time varies depending on the fleshiness of the plant and the humidity.
For more information about drying flowers see the files
Drying Flowers
and
Flower Drying Supplies