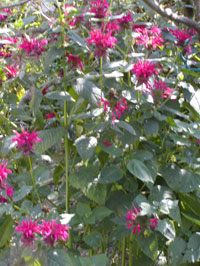 Bob Lollo ©
Because most are taller than 2 1/2 feet, beebalms look best at the back of a flower bed or along a fence. Their weedy, coarse texture gives them an informal look, and they fit in better with other herbs, wildflowers and casual plantings, rather than with more formal, delicate looking plants. They look wonderful backed by tall ferns or dark green conifers.
Beebalm Attracts Wildlife
- Beebalm is valued by homeowners because its handsome flowers, especially 'Gardenview Scarlet', attract hummingbirds. Honeybees also depend on beebalm for nectar and pollen.
Cutting/Displaying Indoors
- Beebalms make interesting cut flowers. They look best as accents in informal arrangements of wild flowers. Cut the stems with newly opening buds early in the day. Lace the water in the vase with an equal amount of a non-diet citrus-based soda (Sprite or 7Up) or use commercial flower conditioner to help prolong freshness. For more information see the files on
Keeping Cut Flowers
and
Cut Flower Supplies
Drying Beebalm
- While beebalms air dry easily hung in a warm dry place, their colors will fade considerably. For more information see
Drying Flowers
and
Flower Drying Supplies
Eating Beebalm
- Beebalm flowers have a slight minty taste and are their petals are used in teas. They are colorful in salads and as a garnish. Sample the petals before serving them. Their taste varies depending on the variety and some are unpleasantly metallic and hot tasting. Use only flowers that you know to be pesticide free.