A maple tree with a crown (drip line) diameter of 20 feet will lose about 20 gallons of water through evaporation through the leaves during an 8-hour period. On a hot day this loss may reach 40 gallons. If a soaking rain deposits an inch of water over the area of the tree's root system (about 1,200 square feet), the tree would get about 700 gallons of water. However, the tree may only receive about half of this water if turfgrass is growing beneath it. In a hot summer, a young tree will probably start feeling the lack of moisture after 7 to 10 days without rain or other irrigation. A mature tree will begin to show signs of water loss in 3 to 4 weeks.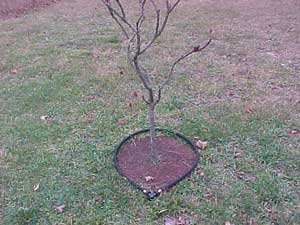 For newly planted trees and even young trees in their second and third years, if there has been less than one inch of rain during any 10 days during the growing season, they can use some water. A small sapling can be watered with a hose or a watering can. As the tree gets larger it is easier to apply water with a soaker hose or other form of drip irrigation. These tools provide water very slowly so there is no runoff. Figure out how long it takes these hoses to deliver one inch of water to the root zone and that is what you need for each watering session. Repeat every 10 days until it rains again.
Finally, in areas with harsh winter weather, all young trees should be watered very well, using slow drip irrigation, before the ground freezes. This will help ward off winterkill that occurs when the tree's roots can't replace evaporative water loss due to frozen soil.
Soaker Hoses
- The best device for watering trees, large or small, is the porous soaker hose.