Rhubarb (Rheum rhabarbarum L.)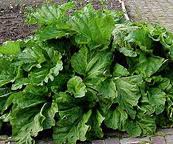 Rhubarb (Rheum rhabarbarum L.) is a cool season, perennial vegetable, grown for its leafstalks that have a unique tangy taste used for pies and sauces.

Rhubarb was cultivated in the Far East more than 2,000 years ago. It was initially grown for medicinal purposes, and not until the 18th century was it grown for culinary use in Britain and America. Rhubarb is as hardy as a weed. It is a very beautiful garden plant, with huge extravagant, lush green leaves and pink or red stalks.

This crop requires winter temperatures below 40 degrees F to break dormancy and stimulate spring growth; and summer temperatures averaging less that 75 degrees F for vigorous vegetative growth. Rhubarb is hardy in USDA Zone 4, and worth trying in Zone 3. The tops are usually killed in the first heavy freeze in the fall, but roots survive and produce new tops the following spring. While the leafstalks are edible, the leaves themselves contain oxalic acid and should not be eaten.

Recommended Varieties
Different varieties have varying levels of sourness and fibrousness, and they also vary in color from almost pure green to almost pure red. Usually the skin is more or less red, while the flesh color varies from pale to darker green. Flavor is not correlated with color. Redder varieties are particularly desirable for pies, because the color of the filling is more attractive than the grayish color of cooked green varieties.
Plant stature and vigor also vary among varieties. In general, greener varieties are more vigorous and have longer stalks than red varieties.
Only the long, thick leaf petioles, the "stalks," are edible.

Canada Red (long, thick stalks, extra sweet)

MacDonald (tender skin; brilliant red)


Victoria (shaded with red)

Cooking Rhubarb

Rhubarb requires the addition of sugar to combat its extreme tartness. The early pink-stems seem to produce the best flavor for cooking. Rhubarb, or "the pie plant," is often considered a fruit, but it is actually a vegetable (leaf stem). It is prized for it's mouth-puckering tartness which adds zest to pies, tarts, cold soups, jam, and a host of other desserts. 

Many other flavors are flattered by the sourness of rhubarb. In the US it is most often teamed up with strawberries and baked into pies and tarts. A typical English preparation would use ginger, while the French may puree it into a sauce and serve it with fish.

When cooking fresh rhubarb, use a vegetable peeler to remove any brown or scaly spots. Peeling the entire stalk is unnecessary, simply trim the ends and wash and dry the stalks.

Always use a non-reactive pan for cooking this high acid plant. Use anodized aluminum, stainless steel, Teflon coated aluminum or enamel-coated cast iron cookware. 

Rhubarb cooked in reactive metal pots (aluminum, iron, and copper) will turn an unappetizing brown color. Metal ions flaking off the pan will interact with acids in the fruit to form brown compounds that darken both the pan and the rhubarb.

Recipe for Rhubarb Strawberry Topping

This sauce is excellent as a topping for ice cream, pancakes, waffles, pound cake, and a bowl of fresh fruit, gingerbread or yogurt. It will keep in the refrigerator for up to 4 days.
10 stalks rhubarb, trimmed and cut into 1-inch pieces
4 cups hulled, quartered strawberries
1 1/2 cups sugar
1 cup orange juice
Zest of one orange, grated
Zest of one lemon, grated
1/2 teaspoon vanilla extract
1. In a large heavy saucepan, combine all ingredients and stir well. Bring to a boil over medium-high heat.
2. Reduce heat and simmer for 10 to 12 minutes, skimming of foam as it collects.
3. Remove from heat and allow it to cool to room temperature. Cover and refrigerate. Serve cold or warm. Reheat if desired. Keeps for 4 days in the refrigerator. Makes 8 cups.

Home Preservation
To freeze: Chop into 1/2-inch pieces, spread them on a sheet pan and place in the freezer. Once frozen, slide the rhubarb into heavy-duty plastic freezer bags. Seal tightly and put back into the freezer. Packed this way, rhubarb will keep for up to six months, and can be measured from the freezer bag.