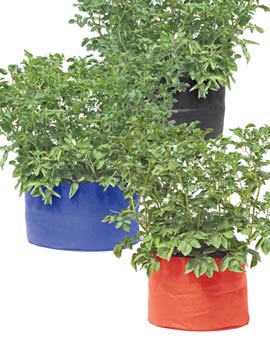 Grow Potatoes In Containers
While potatoes obviously grow in a garden soil, they take up space you may not wish to give up in a modest sized garden. Potatoes grow incredibly easily in containers that don't have to take up space in your garden. That is what this file is about – growing potatoes at home in containers.

Varieties of Potato For Containers
Most potato seed nurseries will send you five pounds of a particular variety that you wish to buy. In a container you may use only two or three potatoes. So eat the rest.

Some popular potato varieties for growing in containers:

Cranberry Red - This potato's fine, moist texture is ideally suited to boiling or sautéing. Also known as "All-Red". The best of the red-skin/red-fleshed potatoes. High yield and smooth texture. 70-90 days to maturity.

All Blue (Fall potato) - This is an heirloom potato that is blue inside and is absolutely stunning when cooked. The all blue variety is a good cooking potato because of its versatility -- use it in stews, roast it or mash it. The bluish-purple color of the potato's skin and flesh remains even after it's cooked. Plant all blues in July or August. This variety matures late in the fall, which allows you to store them for use during winter months.

Yukon Gold (Early potato) - The Yukon gold has a thin, light brown skin and yellow, moist flesh. It's a popular cooking potato because it requires less fat to enhance its flavor compared with white potato varieties. This seed potato is an early season tuber that produces big, plump potatoes. Yukon gold adapts well to various soil conditions, which makes it an ideal choice for home gardeners.

Red Pontiac - This is a red-skinned variety that grows well in containers.

Russian Banana Fingerling - Savory finger-sized yellow tubers are exquisite baked, boiled, or in salads. Heirloom gourmet variety first grown by early Russian settlers. Crescent-shaped tapered ends. Unsurpassed culinary quality. 105-135 days to maturity.

Green Mountain - Green mountain is a white potato variety that generates a reliable harvest of consistent numbers year after year. Green mountains rarely show up in grocery stores because of their irregular shape, but this variety makes a tasty baked potato. It adjusts to various soil conditions and it's disease-free.

Superior - The superior seed potato is among a select group of white potatoes that can tolerate moderate temperatures. Home gardeners in warmer regions of the U.S. can cultivate this variety with success. It produces round tubers. Plant the seed potatoes in late March and early April. It takes about 90 days for your crop to mature.